Bir an eli sopalı otorite olmaktan vazgeçtiniz. Polisi bir çizginin dışına çektiniz. 1 Mayıs ilk defa bayram gibi geçti işte.
Kıyamet kopmadı işte, gördünüz mü?
Kıyamet kopmadı! Kıyamet kopmadı!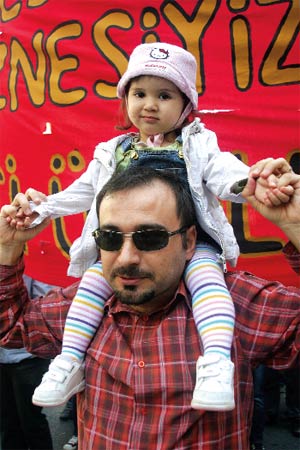 Hatta o her gun "yaptığınız medyacılığın, gazeteciliğin, haberciliğin taaa içine!" dedirten Milliyet bile şunları not düşmüş
- Polisin 1 Mayıs kutlamalarında olası bir durumda müdahale etmek için aldığı 10 ton biber gazı hiçbir yerde kullanılmadı.
- Arama noktalarında bekleyen polislere cop dahi verilmedi.
- Kutlamalar için Taksim Meydanı'na çıkan 3 arama noktasında daha önce NATO toplantıları için hazırlanan büyük bariyerler kullanıldı.
- The Marmara Oteli'nin üstüne karargâh kuruldu. Seyyar kameralar kutlamaları canlı yayınla izledi. Havadan çekilen görüntüler de The Marmara Oteli'nin üzerinde kurulan merkeze aktarıldı. İstihbarat, terör ve güvenlik şube yetkilileri buradan tüm görüntüleri izledi.
- Biri çocuk, 17 sağ görüşlü genç gözaltına alındı.
- Kutlamalar sırasında dükkan ve mağazalara zarar verilmedi.